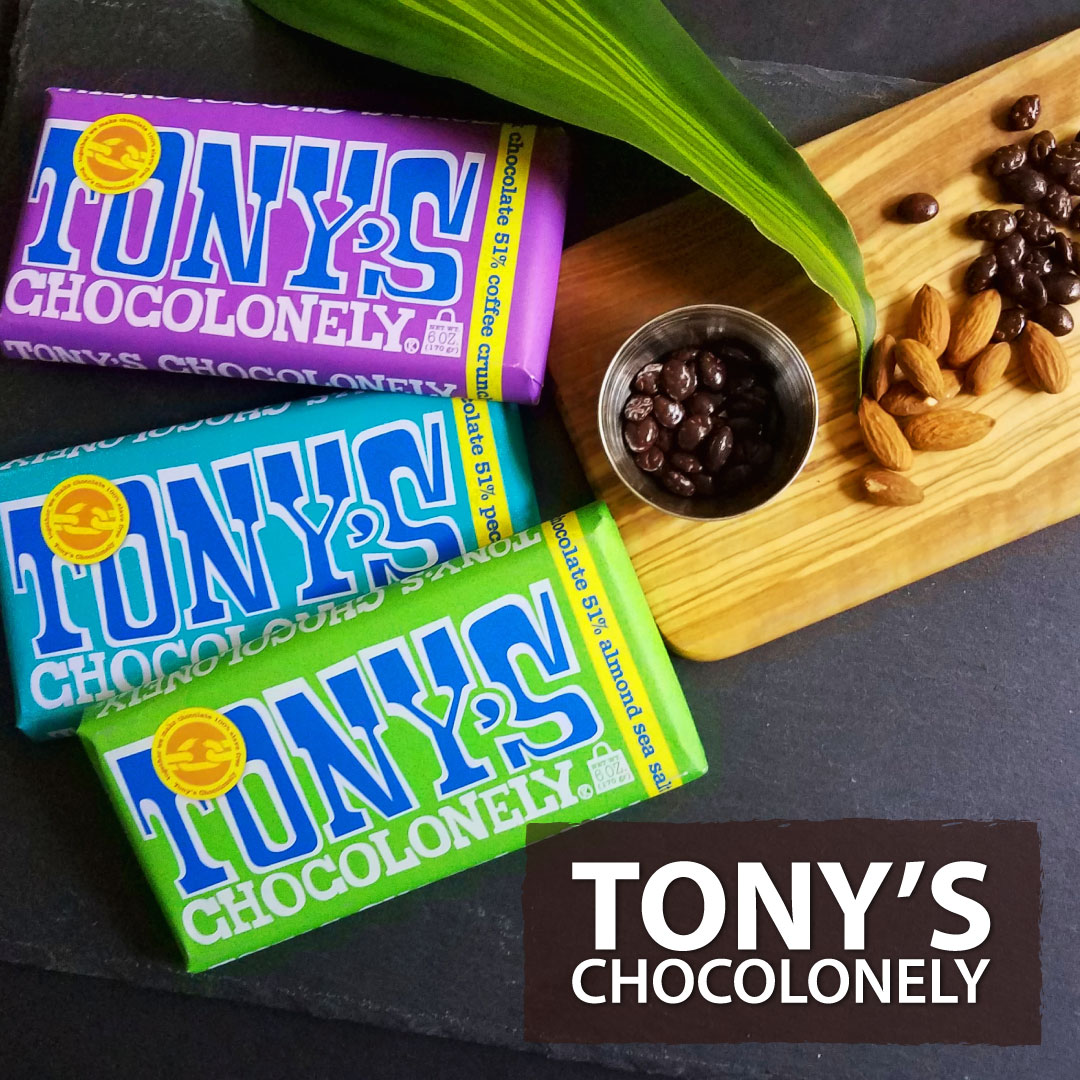 Chocolate, bold packaging and the color green are three of my favorite things. A few weeks ago, a friend gave me a gift that featured all three of those things – a TONY's Chocolonely almond sea salt candy bar. I let it sit on my desk for a week or so (because I enjoyed looking at the colorful label), and when I finally opened it I was blown away. It was so good!
TONY's Chocolonely isn't only about good packaging and great chocolate; they are truly committed to making the world a better place. They use their website not only as a channel to promote their chocolate, but also as a platform to amplify their mission of making chocolate 100% slave free world wide.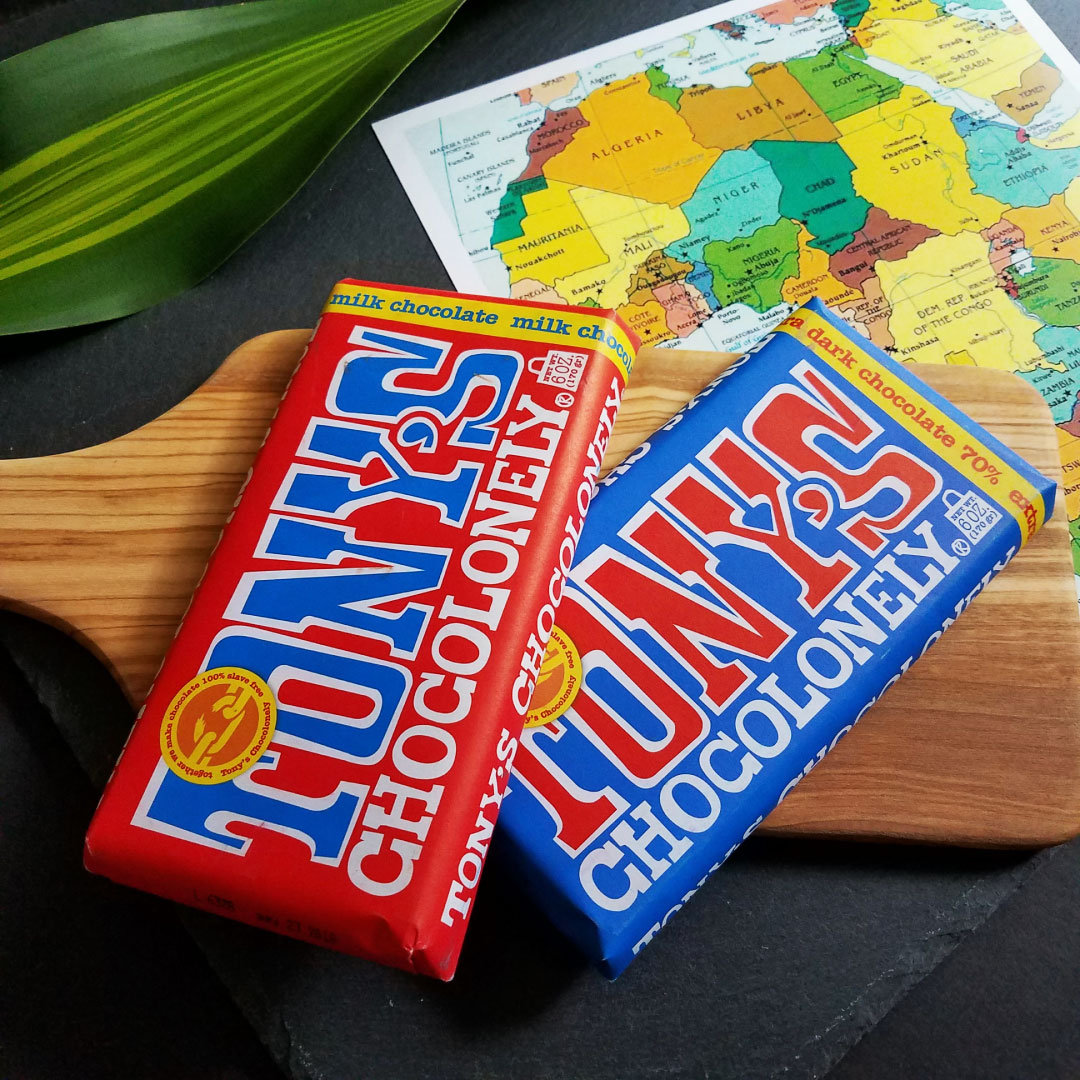 TONY's isn't shy about shining light on the problem of slavery and child labor in the cocoa industry; nor are they shy about implementing a solution. The heart of the cocoa industry is in West Africa, where over 60% of the world's cocoa is produced. It's estimated that in Ghana and Ivory Coast there are about 2.5 million farms in the cocoa sector and more than 2.3 million children working on those farms. Of the child farm workers, an estimated 90% of them work under illegal conditions. Oftentimes, they carry heavy loads, use dangerous tools and are exposed to chemical pesticides.
The poor working conditions don't only affect children, adults are also victims of labor abuses. Recent studies calculate that there are around 90,000 victims of human trafficking, forced labor and extreme exploitation in the cocoa industry. This is the bitter byproduct left by many of the world's major chocolate makers.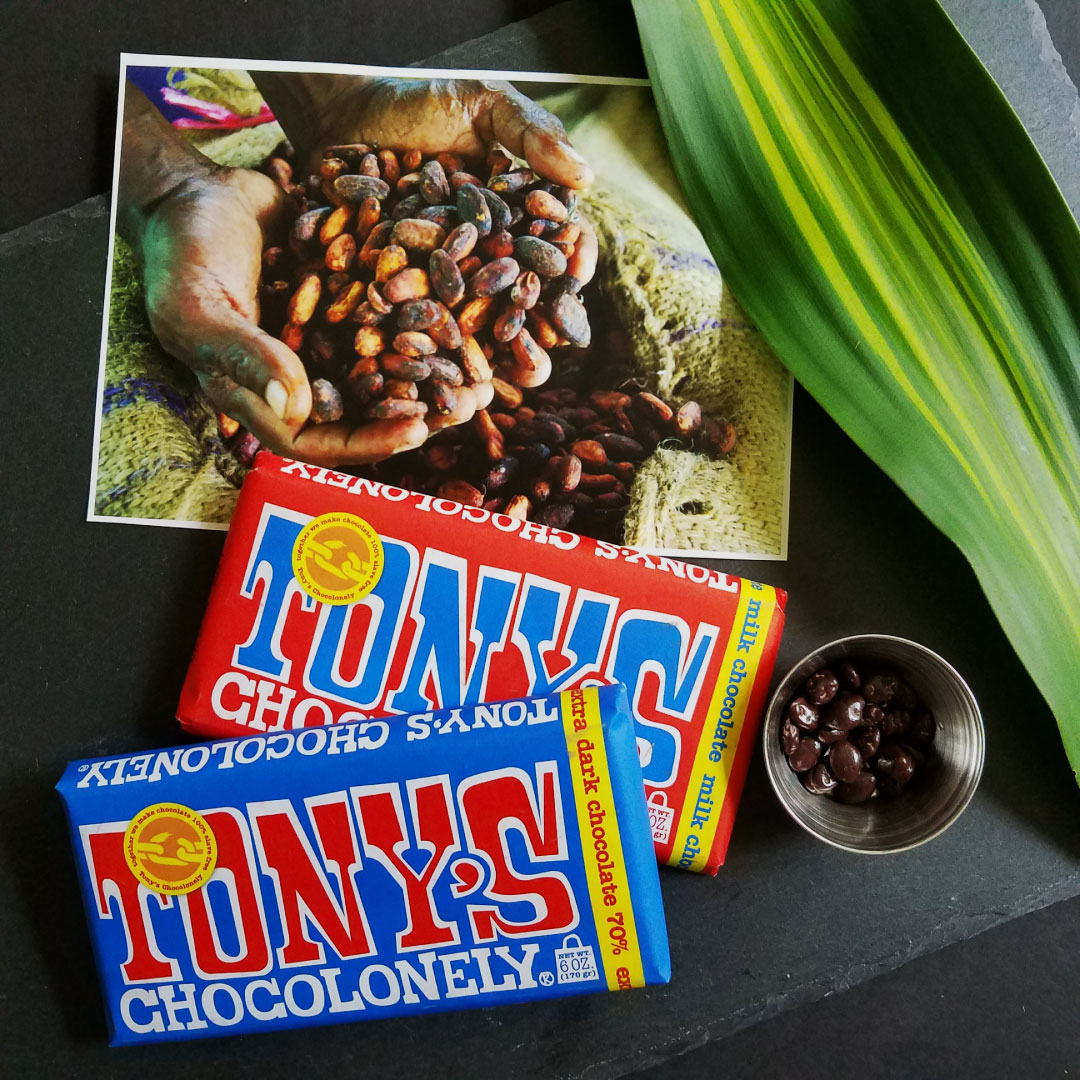 TONY'S is dedicated to changing the industry by leading by example. In addition to creating awareness and to producing their chocolate 100% slave free; they also inspire the industry, political players and consumers to bring about change.
TONY'S holds fast to a 5 pillar recipe for cooking up a new culture in the cocoa industry. It consists of:
1. HELPING FARMERS TO STAND STRONG TOGETHER
strengthen farmers' organizations, use economies of scale, create commitment and trust
2. IMPROVING QUALITY AND PRODUCTIVITY 
stimulate agricultural improvements, motivate the cocoa farmer, attention to productivity and quality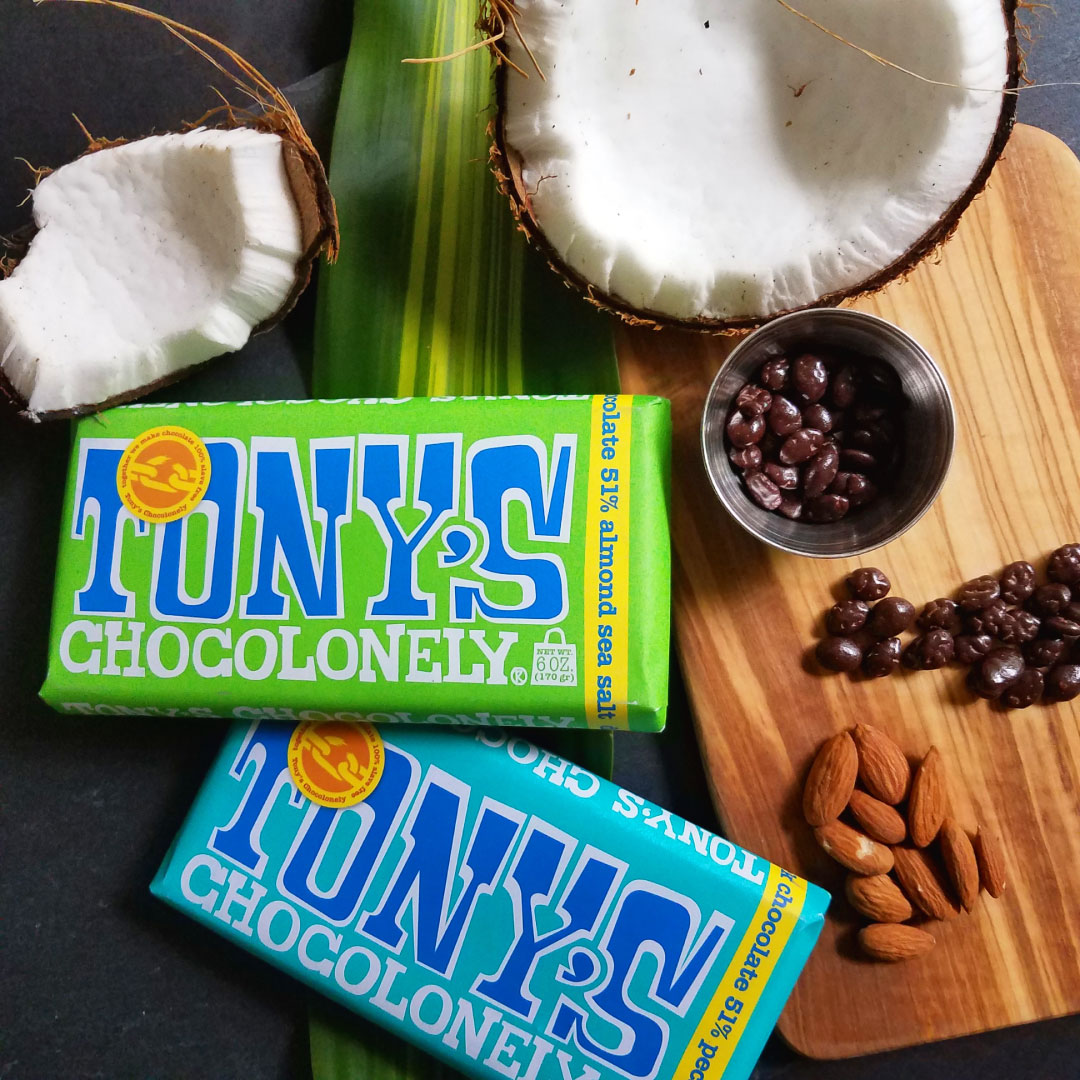 3. PAYING A FAIR PRICE
ensure a living income (above the poverty level), reward equality
4. FOLLOWING THE COCOA BEAN
collective responsibility, map the supply chain, commit to continuous improvement
5. GOING FOR THE LONG HAUL
commit to purchase from farmers for at least 5 years, foster financing, invest in local projects
While TONY'S has made significant strides by embracing these principles in their company, they won't consider their mission to be 100% "accomplished" until slavery is completely ended throughout the entire chocolate industry.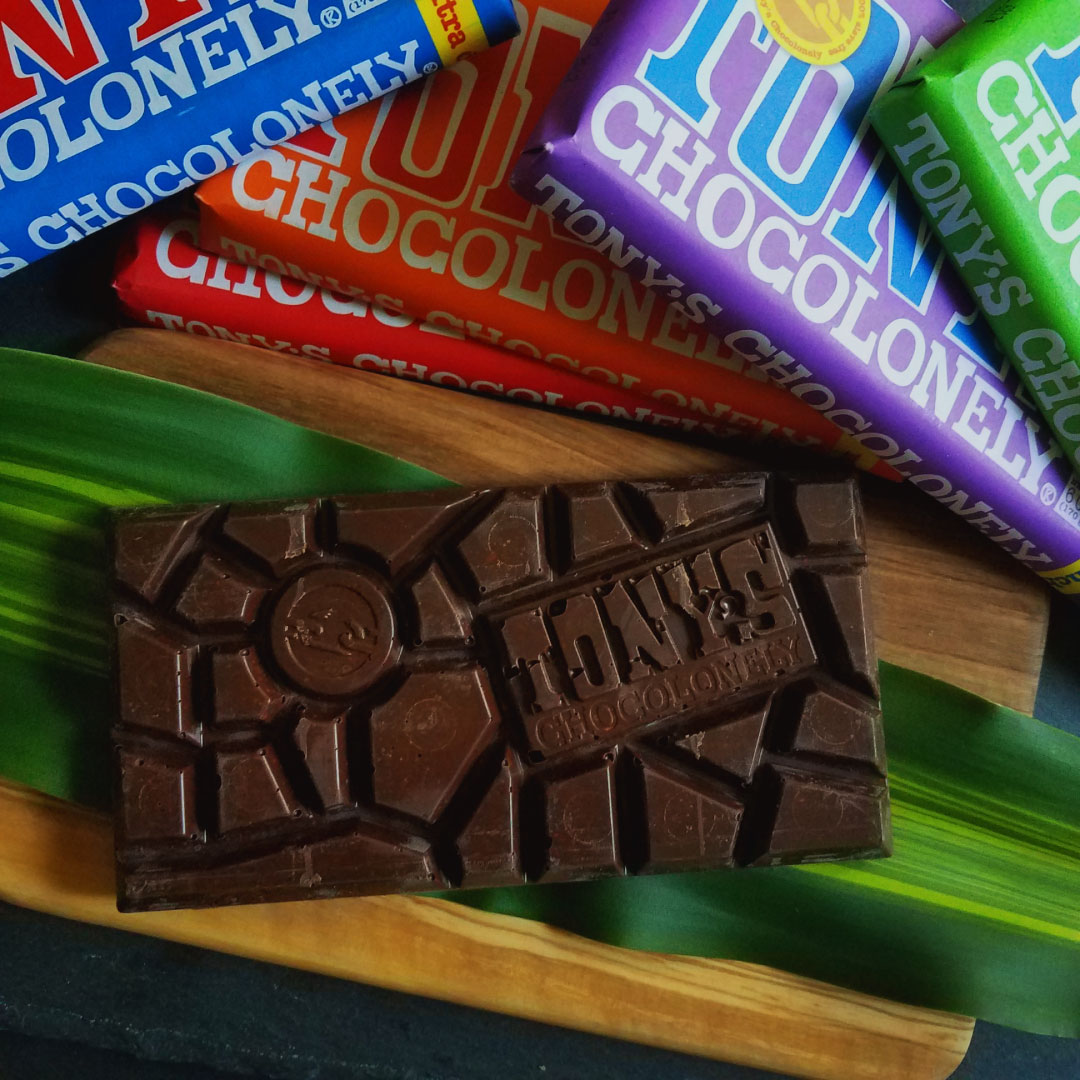 Even the molds TONY'S uses for their chocolate bars reflects the company's values. When you unwrap the colorful paper and pull back the gold foil, you won't find a chocolate bar divided symmetrically into neat segments. Instead, you will find a mosaic of various sized pieces. TONY'S explains that their chocolate bars are "unequally divided, because it's strange for a chocolate bar to have equal pieces while the industry is still so unfairly divided". As a designer, I love the this visual reinforcement of their core values!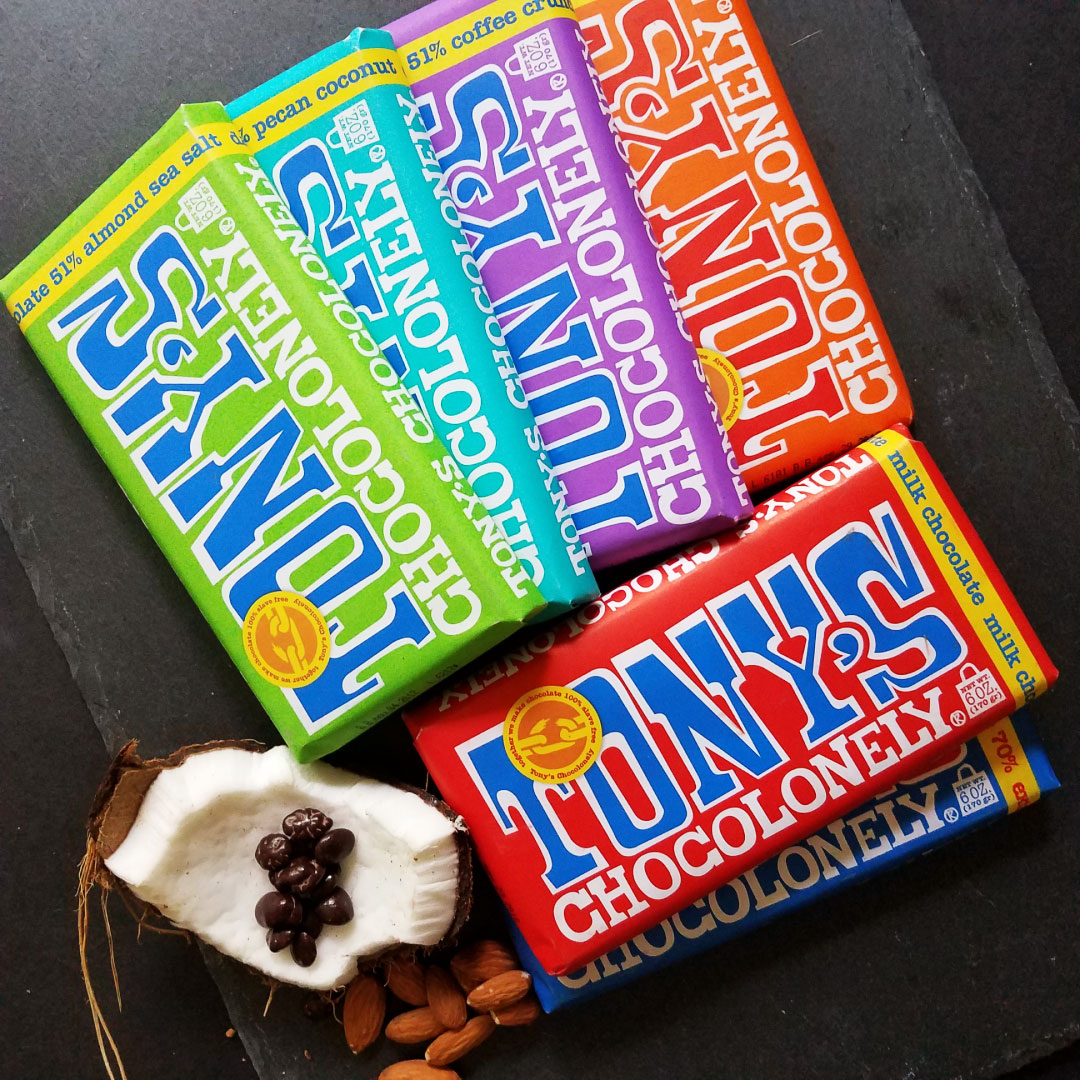 The chocolate in TONY'S bars gets an extra delicious boosts when it's blended with premium ingredients that are ethically sourced from around the world. Turkish figs, Ethiopian coffee, Belgian caramel, American pecans, and Dutch popcorn are all among the gourmet ingredients in TONY'S bars. My favorite flavor (so far) is the chocolate caramel sea salt…followed closely by the chocolate coffee crunch.
TONY'S has a core arsenal of flavors, but they keep things interesting by introducing limited-edition flavors. They released the "ValenTony's Bar" for Valentine's Day (fine dark chocolate with meringue made from free-range eggs and pieces of cherry). On April 1st 2016, the company announced a limited edition "Tony's Space Bar" featuring milk chocolate and small chunks of locally grown marijuana. It was an April Fool's joke! Not only do the folks at TONY's have good hearts, they also have a great sense of humor.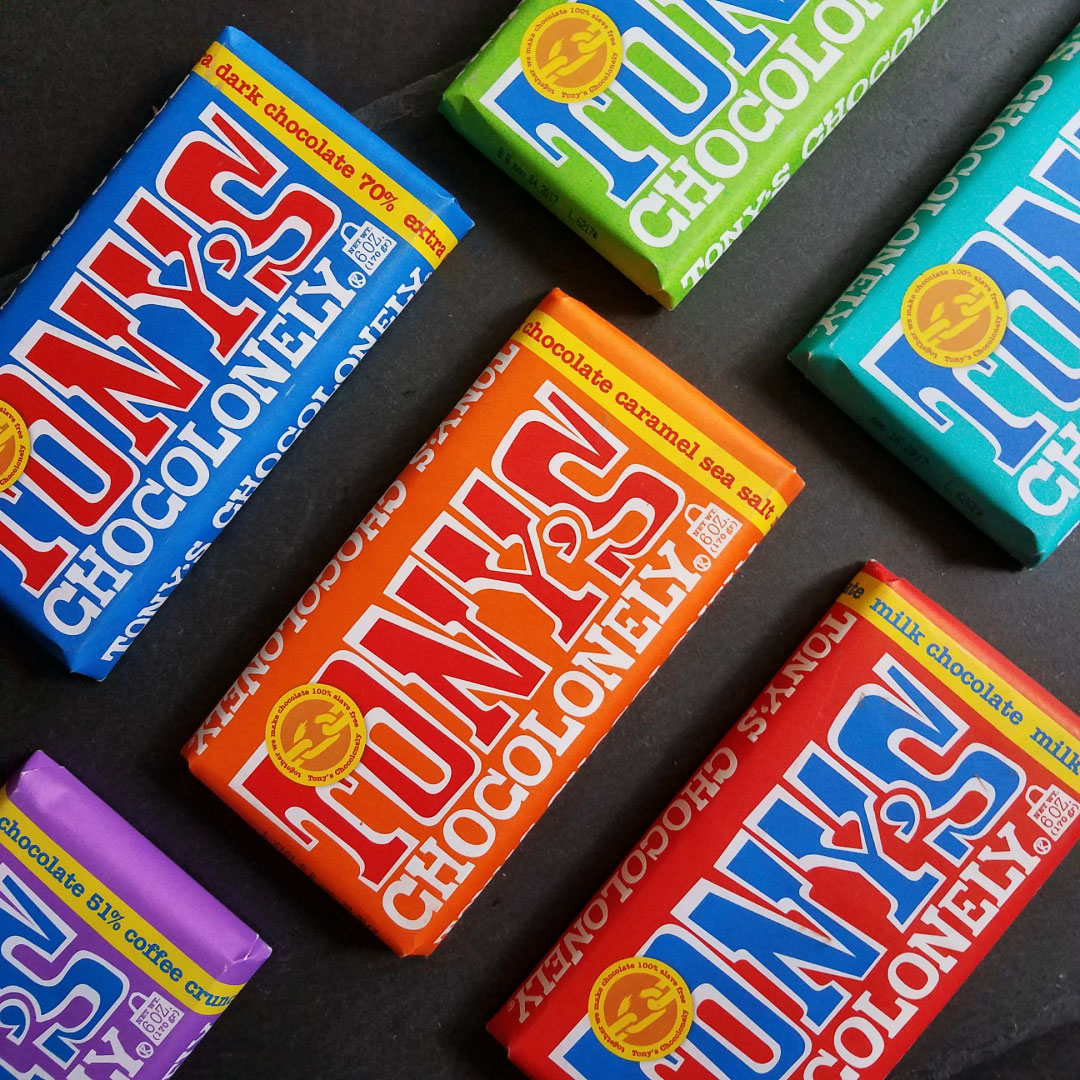 Are you hungry yet? If you're ready to eat some good chocolate (and make the world a better place), you can find TONY's bars here.
Check them out and let me know which flavor is your favorite.