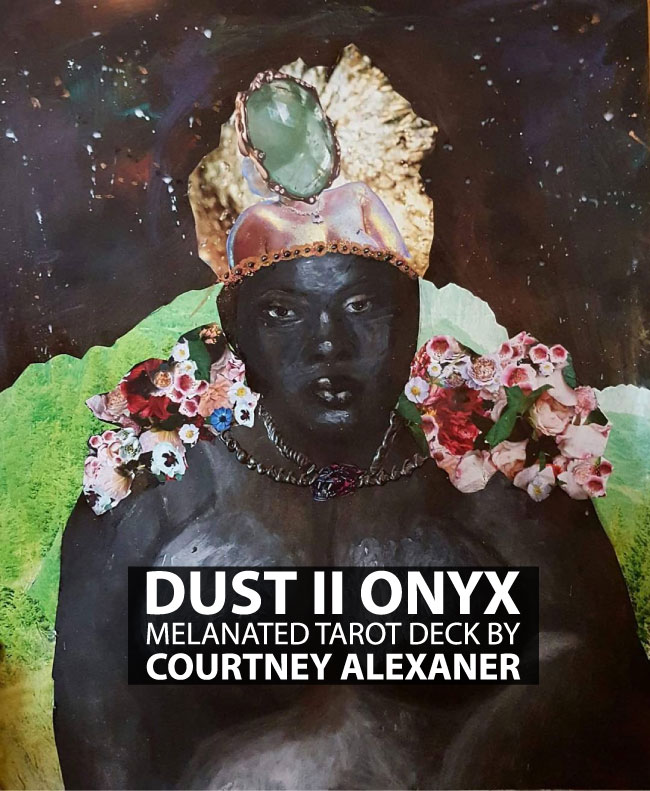 Have you ever had a moment while you are scrolling through your social media feed when you see something that makes you stop in awe?
That's how I felt when I saw a gorgeous collage portrait of a woman on Instagram. She had a gold infinity sign around her eyes, clementine lips and the roaring face of a lion over her heart; it was a portrait that embodied strength. I was intrigued.
After a bit of Googling and link clicking, I discovered the portrait was created by Courtney Alexander as part of her Dust II Onyx Melanated Tarot Deck.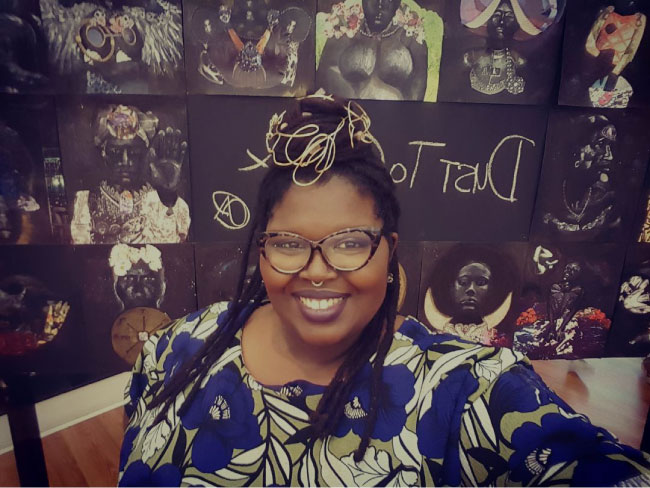 Courtney Alexander is a gifted artist who formalized her art studies at the University of South Florida. She uses art as a platform to create raw and candid dialogue in the arena of body politics, race, and feminism.
Noting that mysticism is widely viewed with skepticism, particularly in the African-American community, tarot is a practice that Courtney began cautiously. She started by downloading a tarot app on her phone because it felt less intimidating to use a digital version as opposed to a physical deck. As time passed she grew more comfortable with tarot and began to view tarot as a method to consciously break beyond the analytical mind.
Eventually she was ready to purchase a tarot deck of her own, but after months of searching she couldn't find a deck that reflected who she was. In an ironic twist, that problem (of not seeing images she connected with) served as the impetus for her decision to create a deck of her own.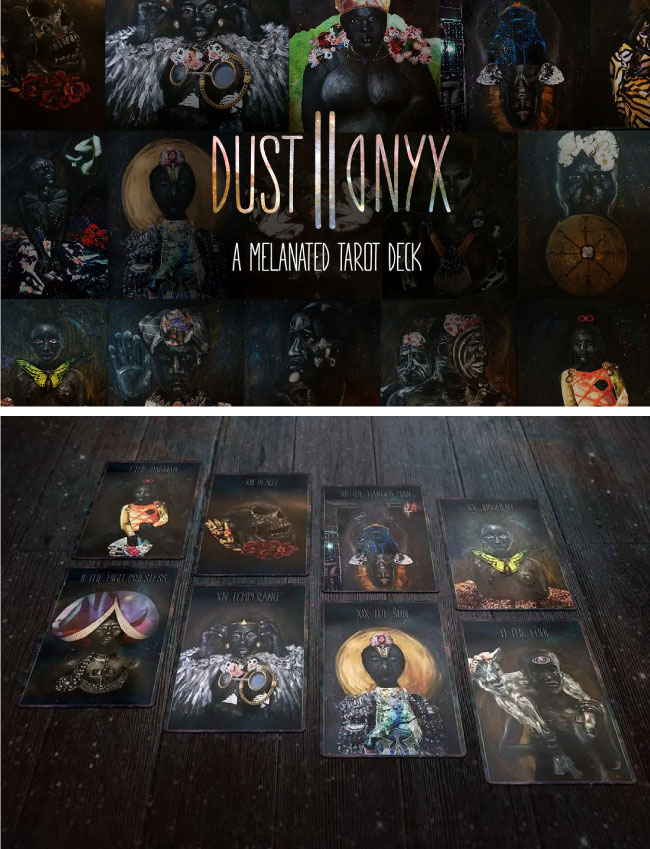 A dark dream gave Courtney the clear vision she needed to start working on the Dust II Onyx A Melanated Tarot Deck and launch a Kickstarter Campaign to fund her dream into reality.
The tarot deck, which will be contained in a limited edition lidded box, will consist of 78+ cards and feature spot gloss and gold foil accents to maintain the varying surface quality of the original works. The hauntingly beautiful cards consist of imagery that Courtney believes come from "far beyond [her] conscious mind".
It's a deck is for tarot readers and art lovers alike. I don't know much about tarot, but I do plan on framing the collective deck as an art piece.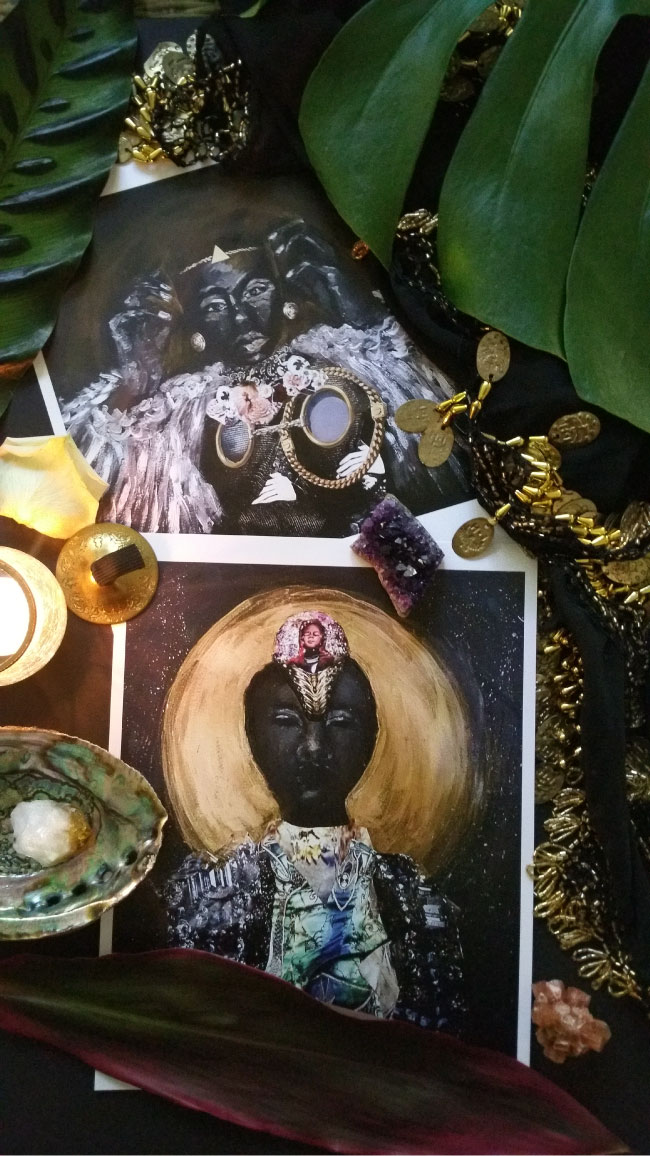 The artistic process started in a place of darkness. In the wake of losing her job, dealing with anxiety and a sudden fear of death; Courtney had the vivid dream that became the inspiration behind the deck. She began work using her knowledge of tarot and her intuition. When I asked Courtney what part of the project she began working on first, she responds: "I started with the death card. It was my biggest fear – I knew I had to tackle it first".
Despite the dark beauty of her work, Courtney has an effervescent personality and a bubbly Southern drawl as she explains "this is the Blackest deck ever…it's not just Black, I mean it's Black-ity-Black-Black-Black!". Although it was created, with intention, for people like her she is honored that it seems to resonate with everyone.
While "color" may be the most visual of Courtney's self-identifiers, the other elements that she embodies are equally potent ingredients in the deck she is crafting. "Fat, Black and Queer" is how Courtney self-identifies. Her voice is passionate as she describes how the deck embodies her whole being and how she continues to be guided through the artistic process by her ancestors. Through this project Courtney is discovering a new level of freedom as she propels through the constraints she felt earlier in her career as an artist.
The collages that comprise the cards encompass a wide arsenal of creative tools including: paint, pastels and magazine clippings. Despite the deeply personal nature of the project, there is a strong influence of pop culture in Courtney's work. The celebrities who inspire her are not "the average girls in the videos", but rather bold creative women who are unapologetically unique (think Grace Jones, Willow Smith and a few quirky social media celebs).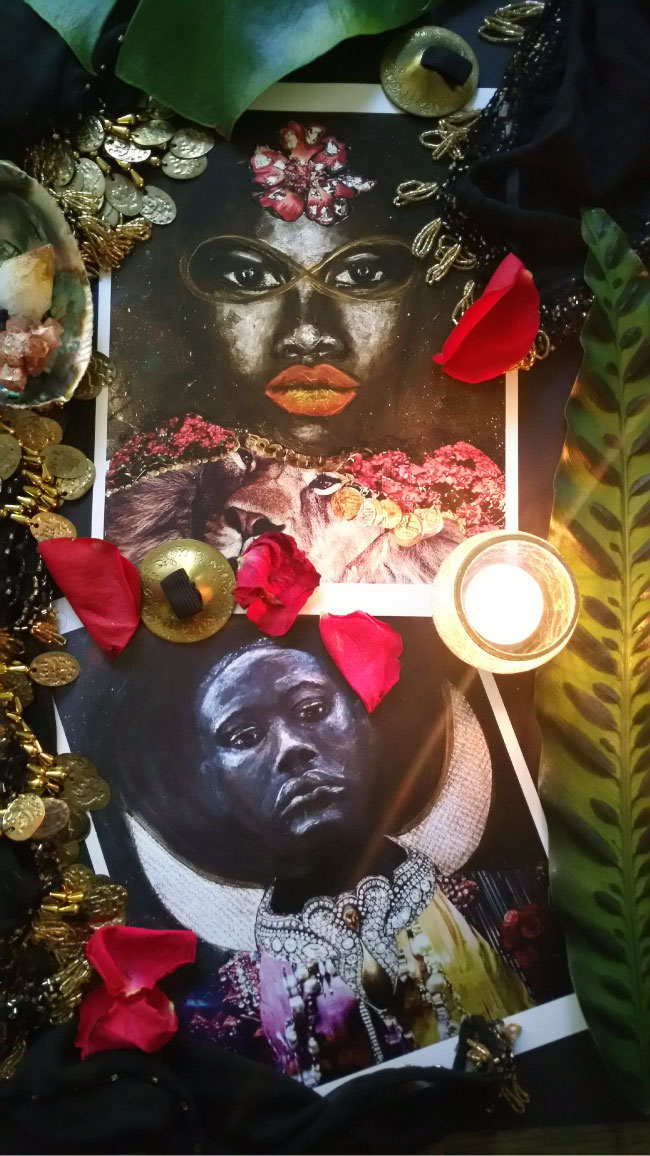 In the whirlwind of activity during the last few weeks, some of the celebrities whose hit songs are on her playlist have become patrons of her art. "This is crazy", Courtney says, "it's just amazing that so many different types of people are responding to me expressing who I really am".
After a hugely successful Kickstarter campaign which served as a catalyst for lots of excitement and press surrounding her project; Courtney is, both, intimidated and exhilarated by all the work that lies ahead. She is committed to nursing the creative process that she birthed, and she's excited to "see the cards in the deck come forth".
Aside from the surreal feelings she has about the Dust II Onyx deck, Courtney still has a very realistic perspective on her day-to-day responsibilities. For the time being she's still maintaining a 9-5 job to keep food on the table for herself and kibble in the bowl for Bella her 14 pound cat.
When I ask about the future, she laughs mysteriously and says "we'll see". I'm sure she knows exactly how the stars will align, but I don't pry.
Whatever she's planned, I am sure that she will have a bright future…in the most melanated way possible.
MORE DUST II ONYX
Support the Kickstarter campaign (until 10/28/16)